Posted By thecircusblog on August 24, 2012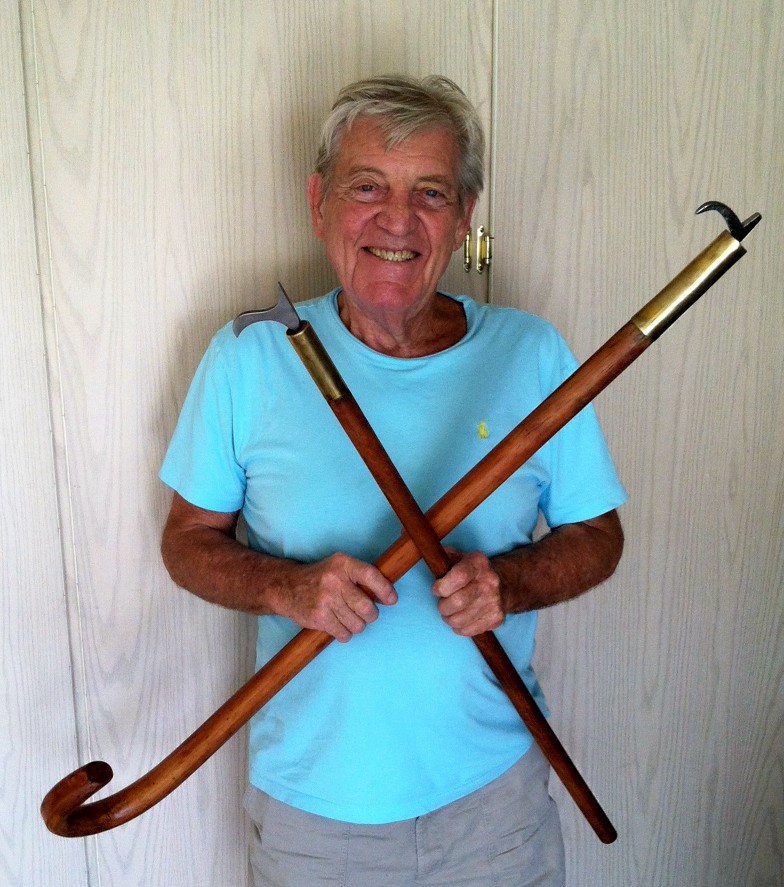 First,  I want to thank Jerry Osborne for sending me these old bull hooks from Jungleland….. they date back to the early 1950's. Jerry is the nephew of Billy Richards who, with Trader Horn owned Jungleland for a time in the 1950's. Billy gave the bull hooks along with numerous photos and collectibles to Jerry who has now bestowed them to me. The cane hook was used by one of the Jungleland trainers. It's function is for cuing the elephants for different tricks. The smaller straight cane hook as well is used for cuing as well , but primarily with baby elephants.
The elephant hook as it is commonly called originated in India and dates back thousands of years. When the elephant came to the American circus so did the elephant hook, however we modified our hooks to be smaller and the hook portion to be blunt. In India the elephant hooks are much different. At one time the elephants of India were revered and the men that work with them were highly respected. These men are called Mahouts, their lives are dedicated their elephants, they live and work with them day in and day out. A life long partnership begins with both elephant and man at a very young age. The Mahouts job is never ending one, feeding, bathing, caring and training to work hauling , pulling carrying the teak wood logs from the jungle forest. The Mahout will have with him a long staff with a large hook and barb it is used to guide, direct and cuing the elephant for what ever is needed by his trainer. The elephant will respond willfully and haul tons of teak logs on his tusks.

 There is a time when bull elephants are not used in work and that is when they are in musk. Bull elephants are left alone to go though their musk, they are watered, feed and made to be as calm as possible by the Mahout. In the American circus most of our elephants are female, for some reason we call them bulls. Female are much easier to handle and you don't have to worry about musk, but females have their problems too and so you just treat them by not asking to much from them when they have their bad moments.

THE BULL HOOK……… Why the way some people speak of it, one would think that it is an instrument of cruelty and death. In all of my years in this business I have never seen a bull man mistreat his elephants with a bull hook. I have met,worked with or have known just about every bull man in the past 68 years, their devotion to their animals is impeccable. I do know of a few cases of those that got a job on a show as a groom and did some stupid things with a hook………… but they lasted about a day. Everyone on a circus watches out when a newcomer joins up and when we see some thing that is not right or is shady………… He or she is gone! For those of you that are negative in your thoughts concerning the circus and it's people, I ask you to join us for a few weeks and learn the truth.…………. You will never want to go home.
Thank you Casey for the kind and honest comment.
Thanks Janice for your comment.
A MUST READ COMMENT BY WADE BURCK.